A whip (pole) with a flag is an important safety precaution, especially when off-roading or riding the dunes. Although it took me a while, I finally did it!
I actually started this project years ago by first purchasing a very nice billet aluminum mount for the flag whip. However, I wanted to wait until all of the painting (Project #07, Project #10, and Project #16) was completed before installing it. Well... the painting project(s) took way longer than I anticipated, and I finally got that officially completed a few weeks ago. Therefore, I have now got around to tackling this project and researching the best options for the remaining pieces that I needed which are a good whip pole, flag, and a heavy-duty spring base.
Although this particular whip comes with an included bulb socket and wiring, I opted not to wire it in. I did, however, install a billet LED bulb just to keep the socket clear and in good condition on the off-chance that I decide to wire it in later on. All together, the whip stands at 9-feet tall on my buggy where I have it mounted from.
Here are all the parts that I purchased for this project:
Here are closer images of the whip, flag, and mounts: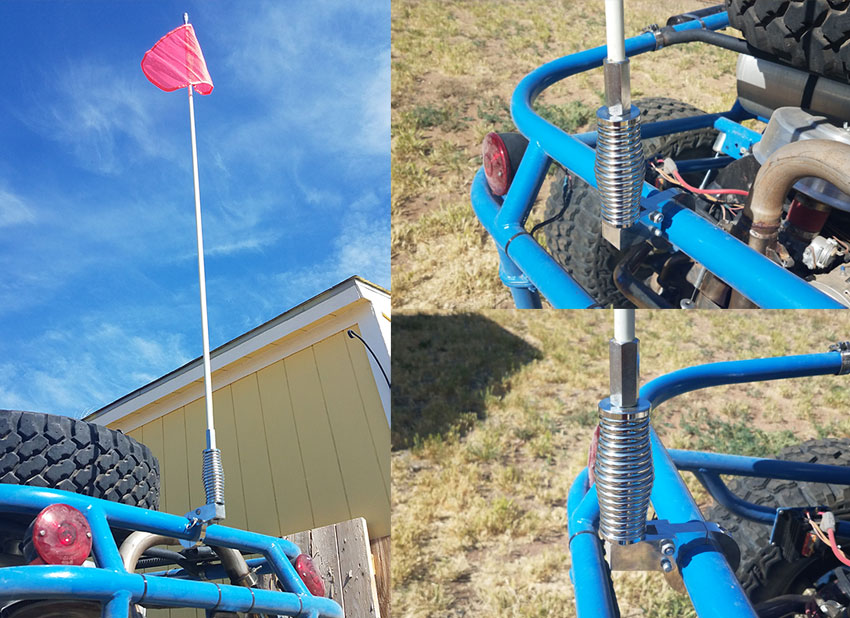 This project included the following tasks:
Attach the billet aluminum mount to the tubing
Drill a dimple (NOT all the way through) for the mounts' set screw
Tighten the mount and set screw and use a little bit of blue loctite to secure
Screw in and tighten down the spring base (secures using included lock washer)
Screw the whip pole into the spring base hand-tight (for easy removal later)
OPTIONAL: Wire the light bulb by running and attaching the positive wire